Kitchen and bathroom faucets
are one of the most common upgrades during a remodeling project. In fact, 81% of renovating homeowners upgrade their kitchen faucet, while 88% upgrade their bathroom faucet. With such high demand, manufacturers respond every year with new faucet styles, finishes and features to align with current trends. And many of those manufacturers use the Kitchen & Bath Industry Show to launch their new faucet collections.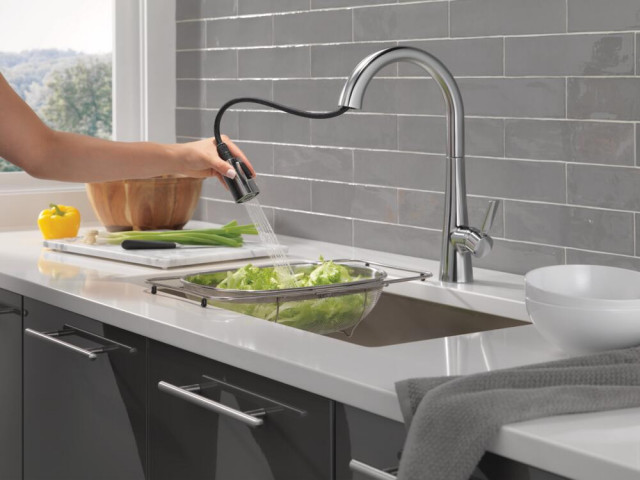 Kitchen
1. Pull-Down Designs
You'd be hard pressed to find a kitchen faucet these days without a pull-down function. This feature allows homeowners to extend the spray nozzle to rinse vegetables, fill pots and clean the sink basin.
Many manufacturers are updating existing collections and launching new ones that include a pull-down function in a range of styles.
Delta debuted its Monrovia collection, shown here. It's a soft contemporary pull-down style that comes in four finishes. There's also an add-on protective coat, called Lumicoat, that resists stains and mineral buildup.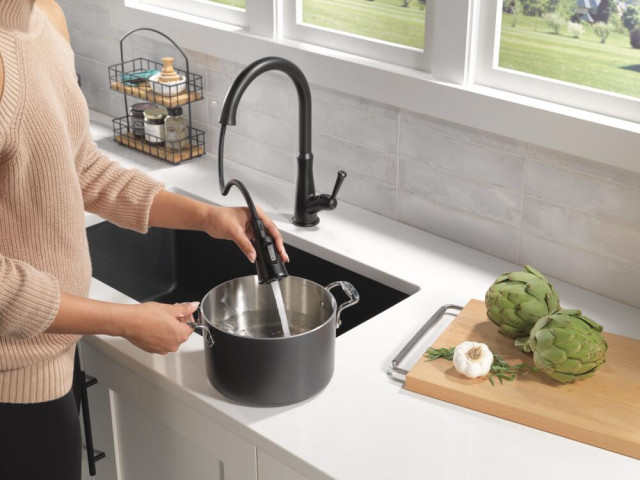 Delta's new Westville pull-down features a transitional design and a magnetic docking station for the nozzle.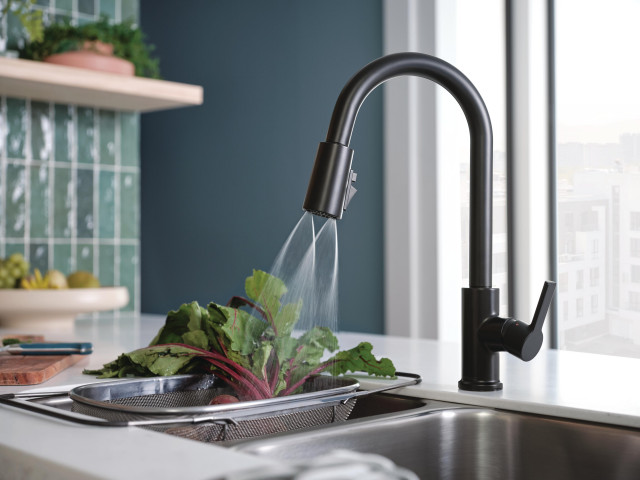 Peerless is launching its Flute collection in May 2022. The affordable, transitional-style line will include a nozzle with a rinse function that features two fan-like sprays.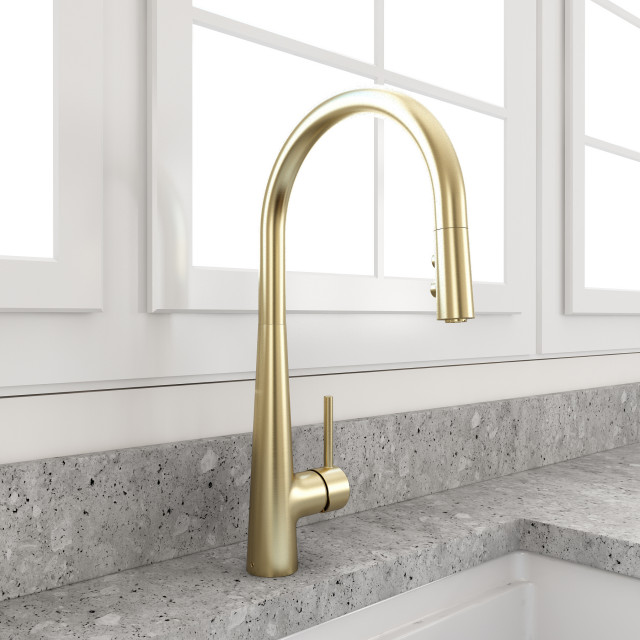 Bocchi debuted its Lugano faucet, shown here in a matte gold finish, with a sleek contemporary design that blurs the lines between spout and nozzle.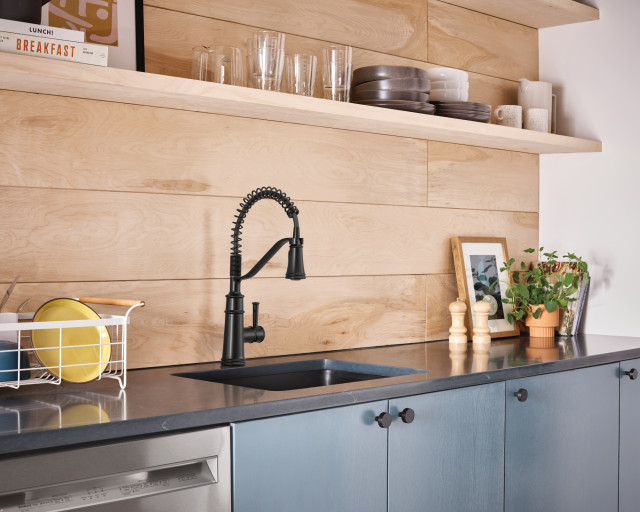 2. Commercial Style
This style of faucet, often seen in commercial restaurant kitchens, is experiencing a bit of a renaissance. Several manufacturers launched or expanded commercial-style designs this year. It's part of a broader trend emerging post-pandemic: a back-to-basics strategy that seeks to modernize industrial-style plumbing fixtures.
Moen launched a collection of what it calls spring galley faucets in three styles. The Belfield, shown here in a matte black finish, is a compact industrial-meets-modern-farmhouse style.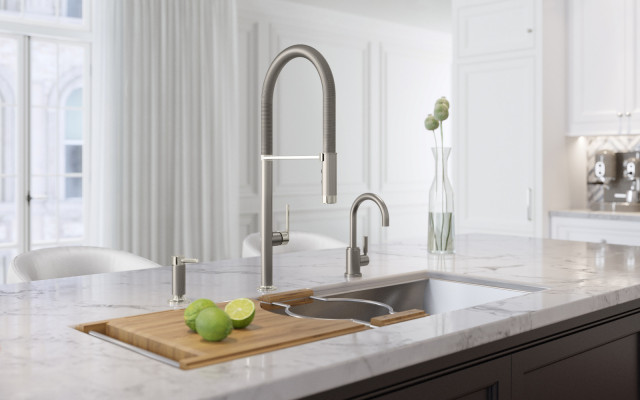 Kallista launched its Juxtaposed semiprofessional kitchen faucet line, shown here. Available now, it comes in polished chrome, matte black and stainless steel.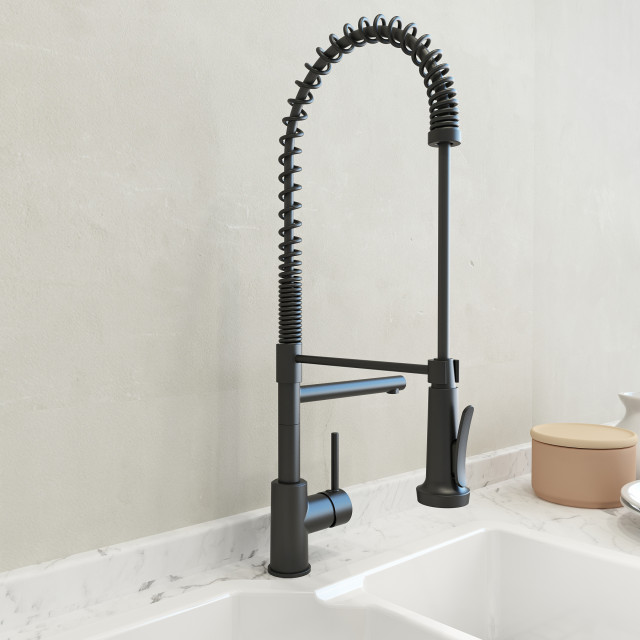 Bocchi updated its Maggiore faucet, shown here, with new features and higher-quality parts.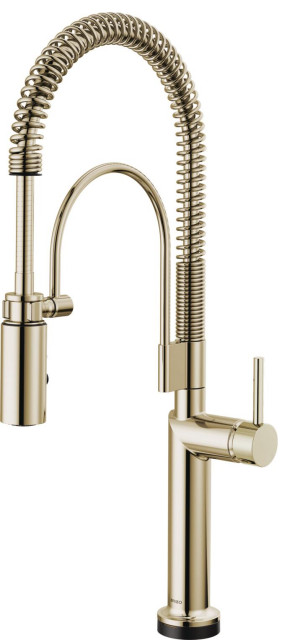 Brizo's Odin semiprofessional kitchen faucet will be available in several finishes, including Brilliance Polished Nickel, shown here.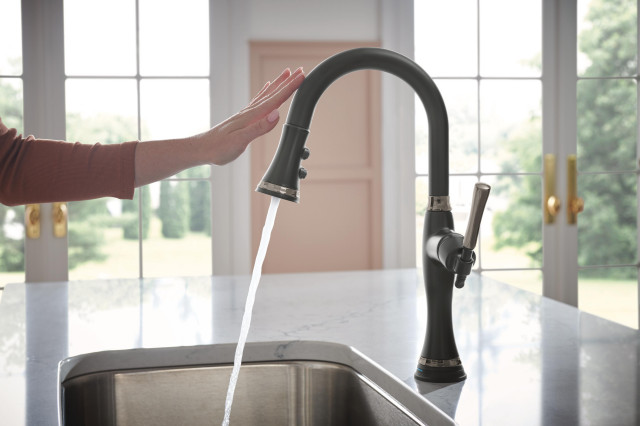 3. Touch, Touchless and Other Tech Features
There's been a lot of innovation in recent years in integrated tech features for faucets. It's been a gradual progression and one that's still getting a feel for what homeowners want.
Brizo's new Tulham line, shown here, features the brand's SmartTouch technology, which lets a user tap the spout to turn the water on and off. There's also an LED light that changes color to indicate water temperature.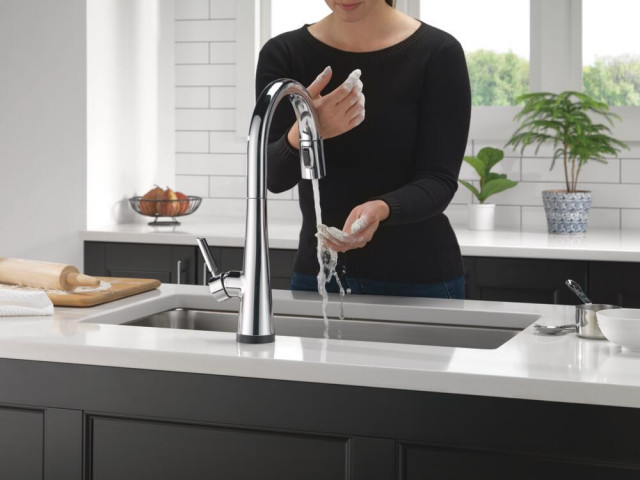 Delta's new Monrovia collection will feature similar technology. You can tap anywhere on the spout or handle. And it doesn't have to be with wet or grimy fingertips. Use the back of your hand, a forearm or an elbow to tap and activate or deactivate the flow of water. The temperature and flow will be where you last positioned the handle.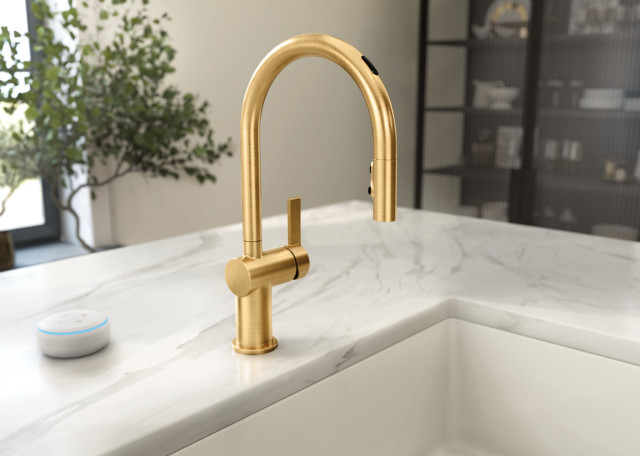 Moen's new Cia collection offers several hands-free functions. Tap to turn the water on and off. Or motion forward to turn it on; wave left to turn the water warm; wave right to turn it cold; motion forward to turn it off. You can also connect the faucet to an Amazon Alexa or Google Home to issue voice commands, such as "Alexa, tell Moen to give me a cup of water."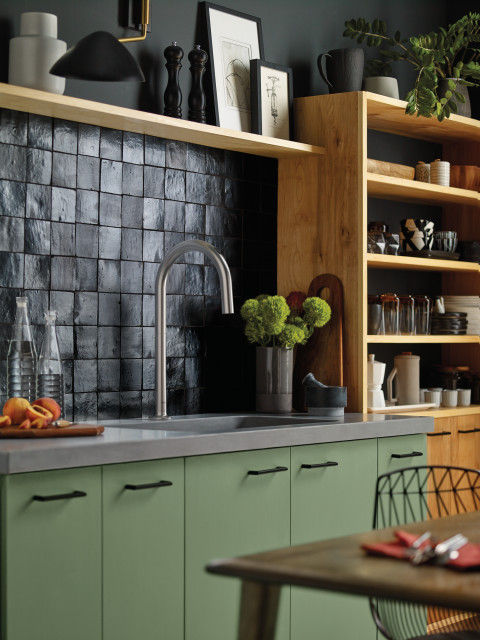 In fact, Moen is so confident in its wave and voice command technology, it's coming out with a completely handle-less style, shown here, for homeowners who are ready to go all in on touchless tech.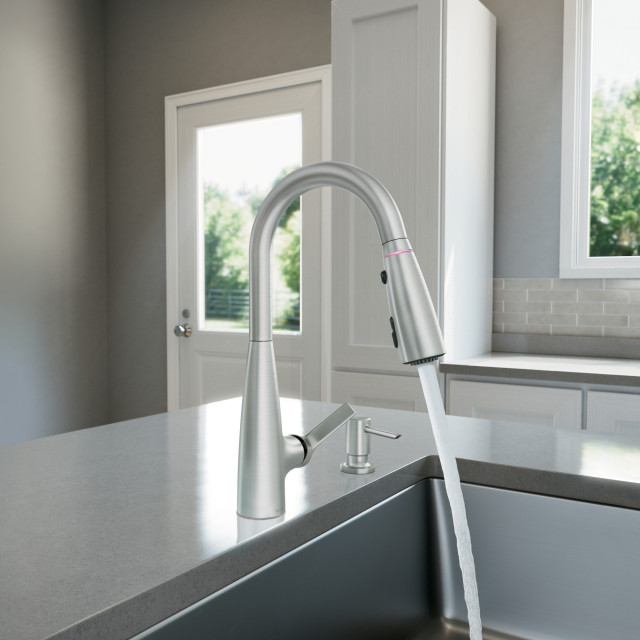 Moen's new Haelyn pull-down kitchen faucet will feature new ColorCue technology that features an LED ring around the nozzle dock that indicates water temperature in five ranges. Blue indicates cold below 81 degrees Fahrenheit. Purple is warm, between 91 and 100 degrees; red is hot, above 109 degrees.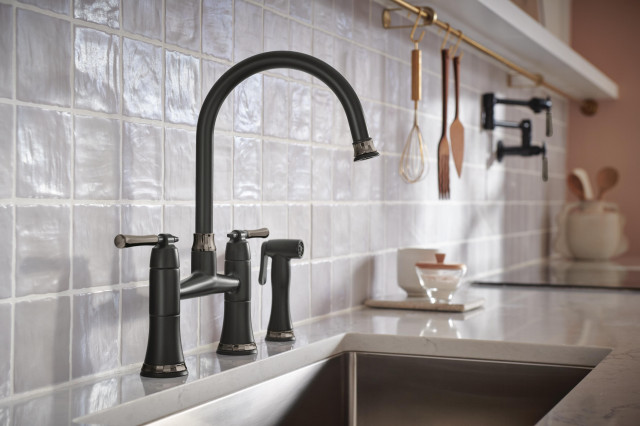 4. Mixing Finishes
One popular faucet trend emerging in recent years is the mixing of finishes and materials. This was initially rendered as dramatically contrasting finishes, such as Kohler's black-and-gold bathroom faucet featured below. But some manufacturers are taking a more subtle approach.
Brizo's new Tulham line, for example, features a tone-on-tone effect. The example shown here displays a mostly matte black finish with levers and bands in Brizo's Brilliance Onyx Black finish.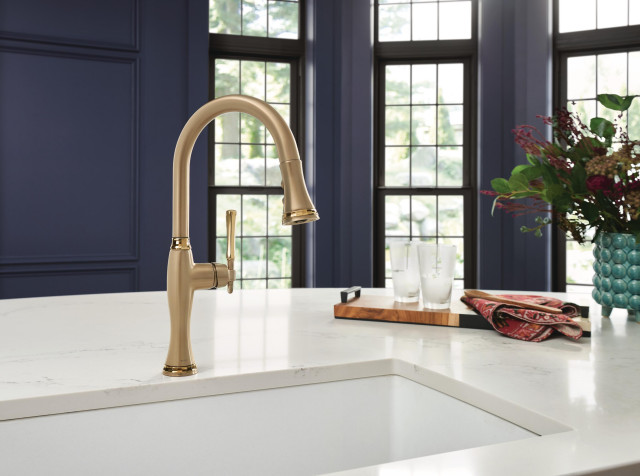 Here's a one-handle style in Brizo's Tulham collection, with luxe gold banded with polished gold.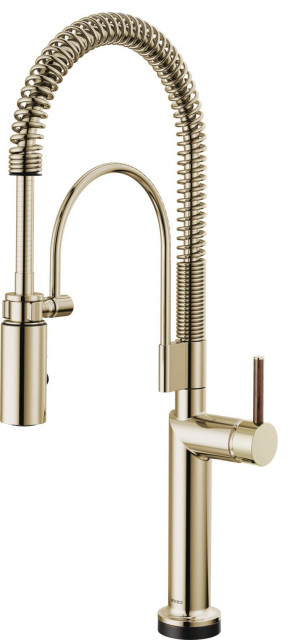 Brizo's Odin semiprofessional kitchen faucet mentioned earlier also comes in a polished nickel finish with a wood handle option.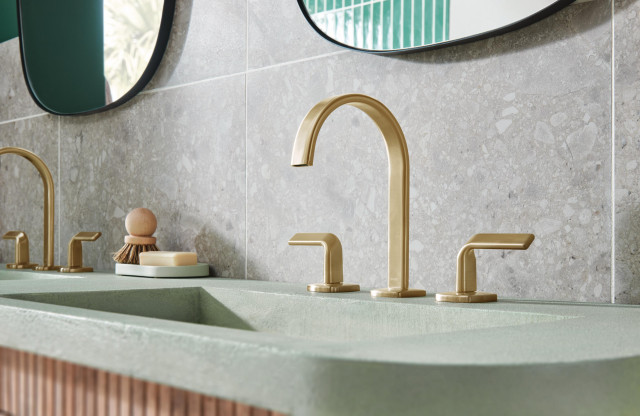 Bathroom

5. Lever Handles
It's hard to deny the abundance of widespread lever handle designs in new bathroom faucet products. And it's interesting to see all the various interpretations of levers that manufacturers have dreamed up.
Brizo's new Allaria collection, available in summer 2022, features a widespread lavatory faucet with lever handles that resemble twisted ribbon.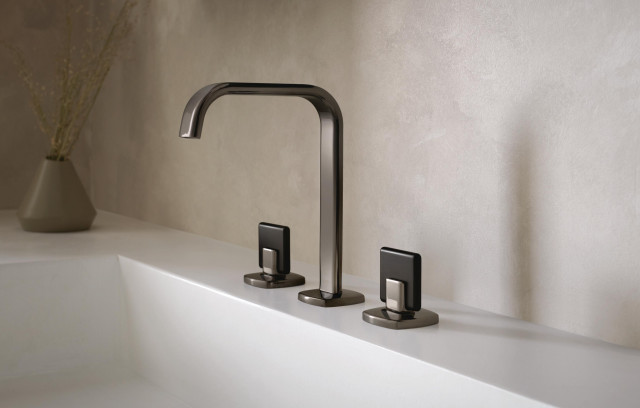 Another option in the same collection features square handles that are a cross between levers and knobs.
The style shown here mixes matte black and Brilliance Black Onyx finishes.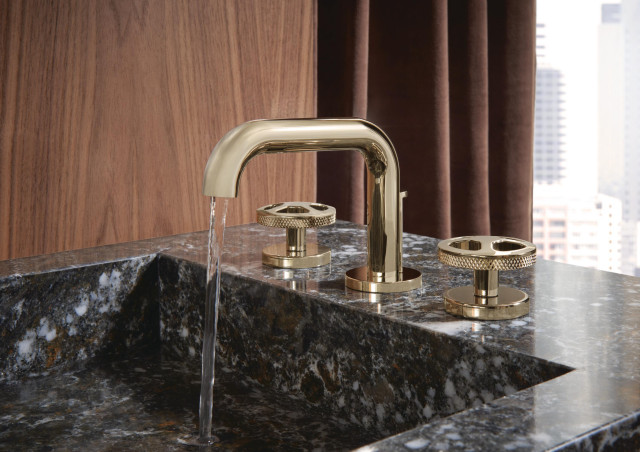 6. Wheel Knobs
Similar to new commercial-style kitchen faucets, these are another result of manufacturers looking to modernize industrial-style plumbing fixtures. Wheel knobs were found on many of the first plumbing parts and are still used in many commercial applications. Several manufacturers picked up on that detail and introduced elegant takes on wheel knob designs.
Brizo released the Litze widespread lavatory faucet with wheel handles, shown here in Brilliance Polished Nickel.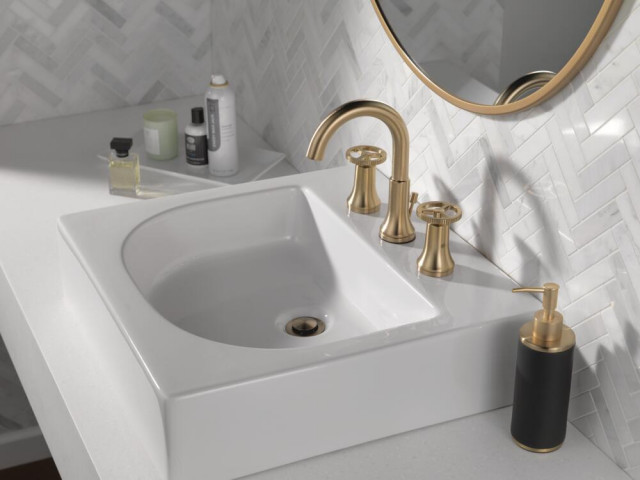 Delta expanded its popular Trinsic collection to include wheel handles, shown here.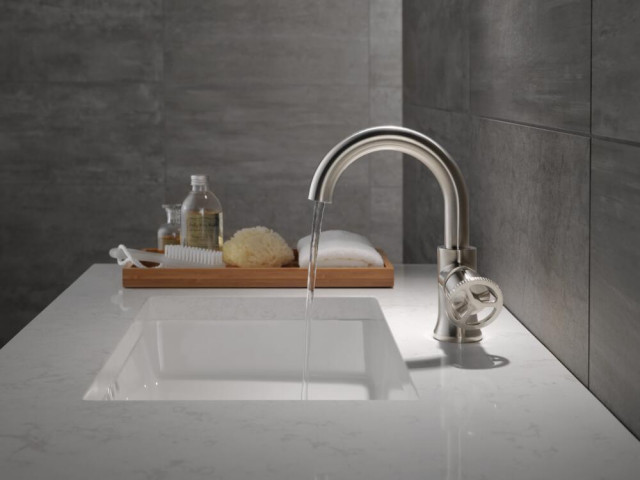 Here's a single-handle version of Delta's wheel handle design in its expanded Trinsic collection.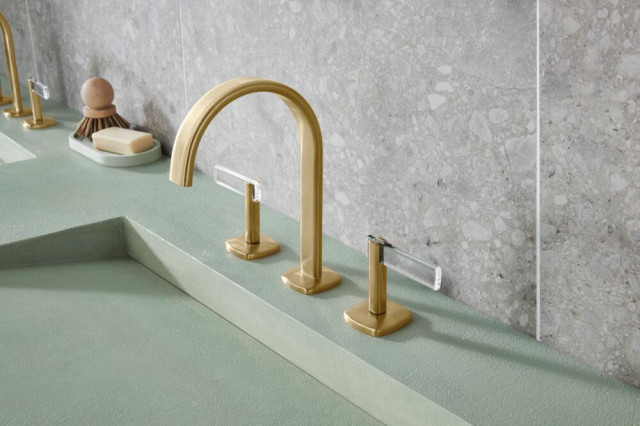 7. Contrasting Finishes and Materials
As with kitchens, manufacturers are mixing materials and finishes in bathroom faucet designs.
Brizo's new Allaria bath collection features a clear lever option, shown here with a luxe gold finish.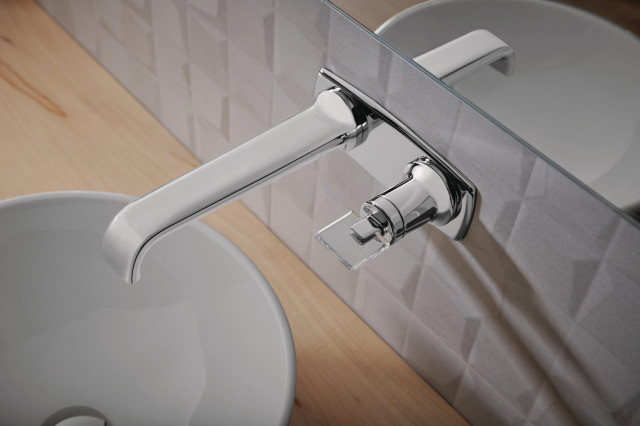 Here's an Allaria wall-mounted faucet with a clear square handle contrasted against polished chrome.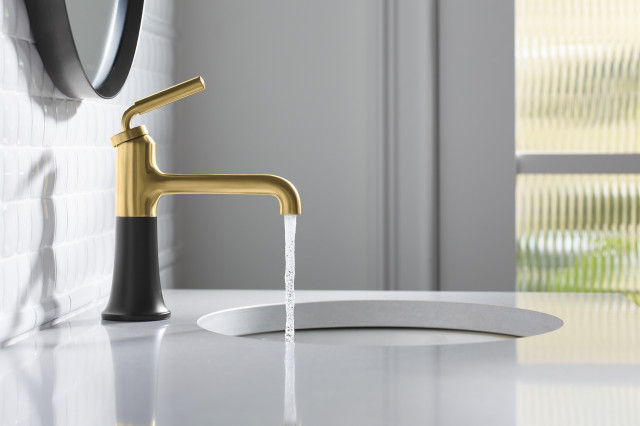 Kohler's new Tone collection consists of five faucet options; there are shower and sink faucets and accessories for a coordinated look. The collection comes in six finishes, including two two-tone options: matte black with polished chrome and, shown here, matte black with Brushed Moderne Brass.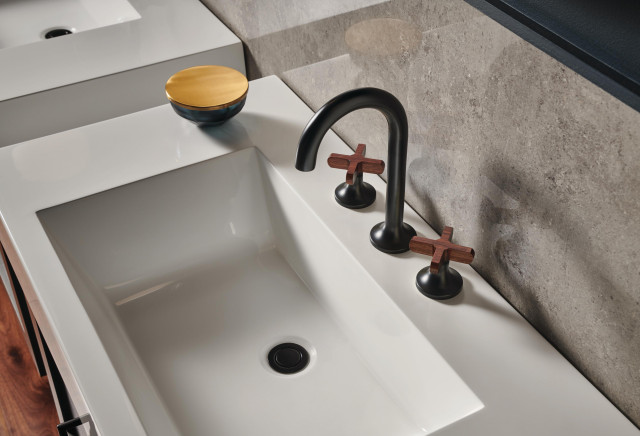 Wood is an increasingly popular detail to integrate into faucets. Brizo expanded its Jason Wu collaboration to bathroom faucets last year. Its widespread lavatory faucet is shown here in matte black with wood cross handles.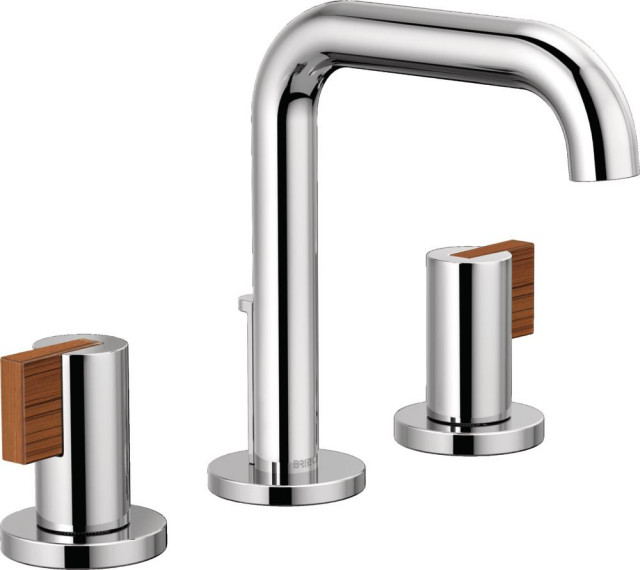 Brizo's Litze bathroom expansion now features an option with teak wood handles, shown here with polished chrome.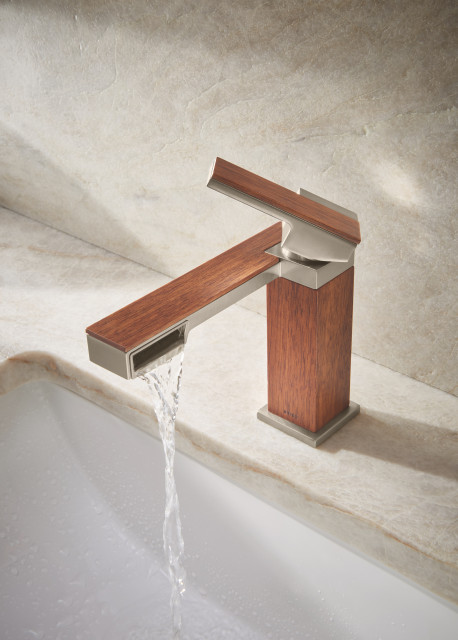 And Brizo's Frank Lloyd Wright collection, launched in 2021, includes this single-handle faucet in teak and Luxe Nickel finish.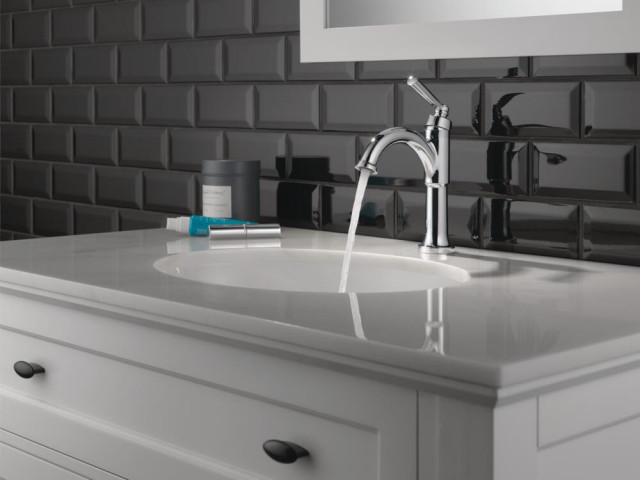 8. Single-Handle Designs
Speaking of single-handle faucets, many manufacturers are releasing new collections in a single-handle design. Some homeowners find that this style saves countertop space and is easier to clean around than, say, a widespread design.
Delta launched Saylor, shown here, a transitional-style design with a geometric spout, gently flared base and subtle industrial-style-inspired handle.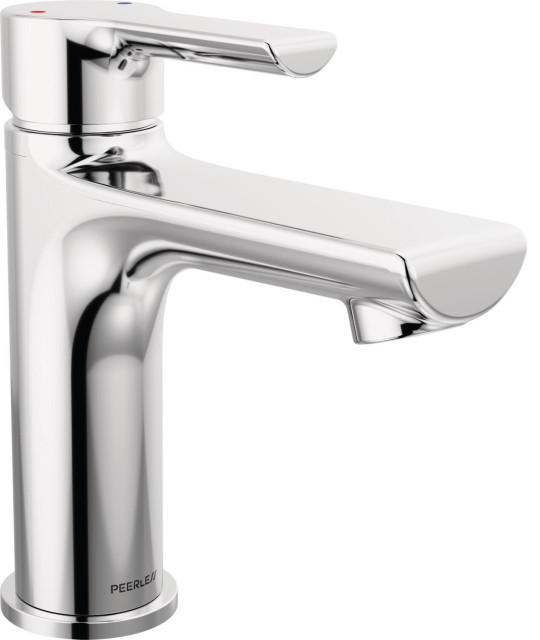 In addition to the pull-down kitchen faucet shown above, Peerless' new Flute collection, features a single-handle lavatory faucet, shown here in chrome.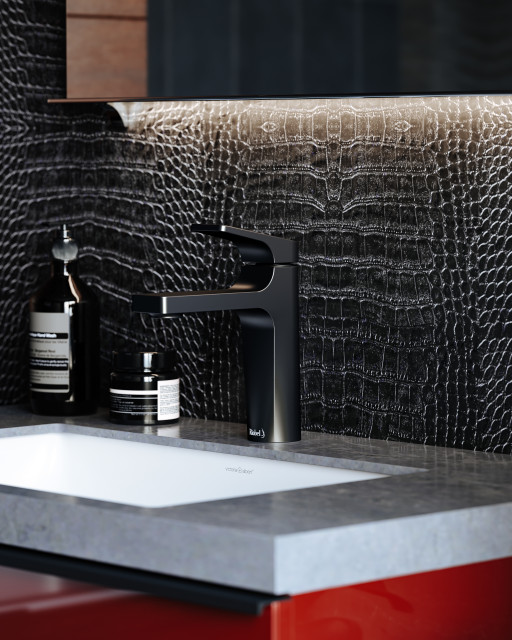 Riobel's new Ode faucet features a cylindrical base and rectangular spout that are easy to wipe clean.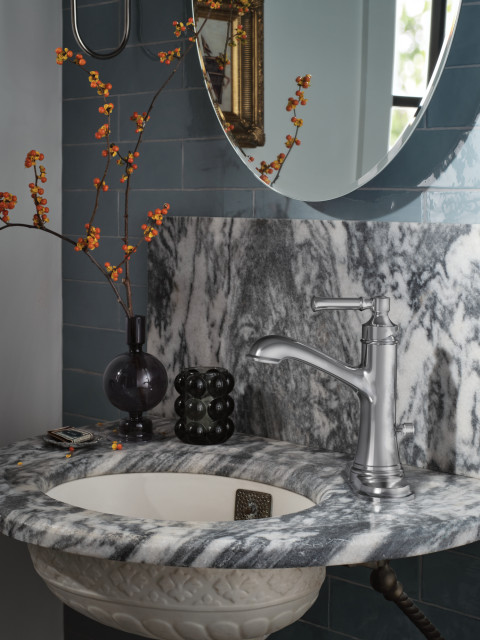 Moen announced the expansion of its Dartmoor faucet collection to include a new single-handle design, shown here. It features a gently flared spout and sculpted handle with finial detailing.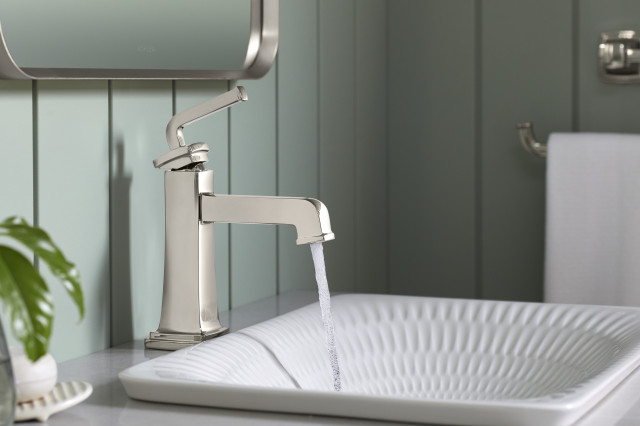 9. Traditional and Vintage Styles
While transitional styles certainly dominate a lot of the new faucet collections, some manufacturers are expanding their more traditional-leaning offerings.
Kohler extended its Riff kitchen collection into the bathroom. The company says the elegant, sturdy look is inspired by French Creole and Spanish Colonial architecture.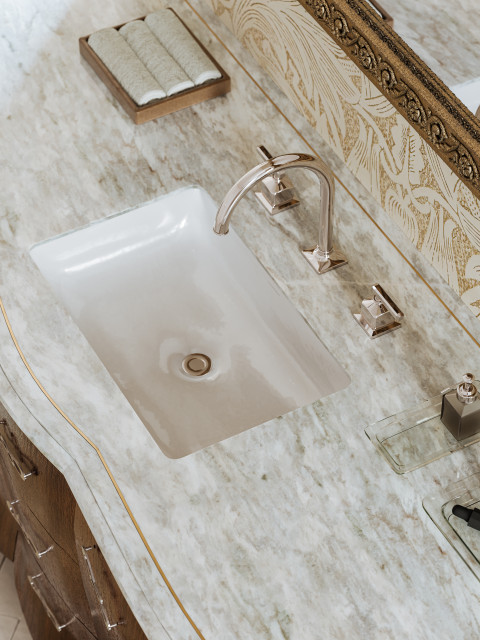 Rohl's new Apothecary line is meant to complement traditional and vintage pieces, such as ornate gilded mirrors and antique vanities.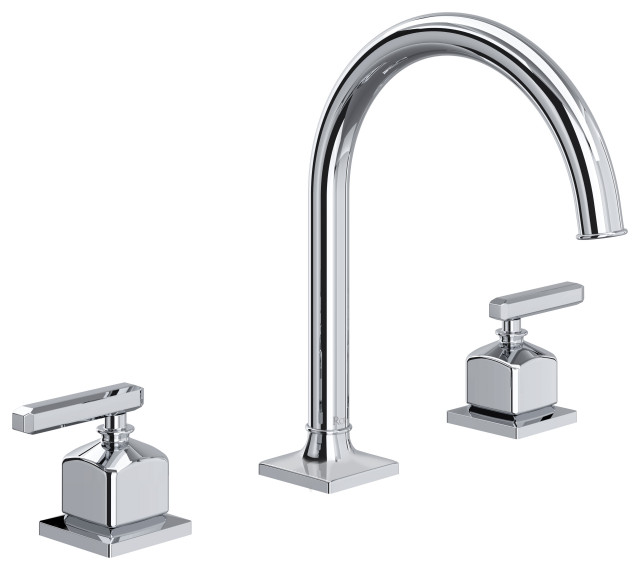 The Apothecary faucet features handles and bases with elegant chamfering details that resemble antique medicine or perfume bottles.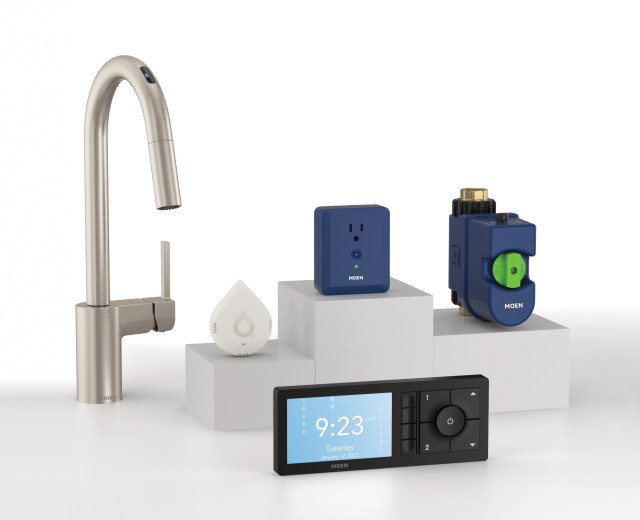 10. Water Monitoring
A lot of attention gets placed on the look of a faucet, but a growing area of interest is on water conservation and usage monitoring.
Moen's Smart Water Network lets homeowners control and monitor their water usage to conserve as needed. It can also detect leaks and notify you. If you're away on vacation, you can remotely shut the water off and flush the pipes to prevent bacterial contamination or freezing in the winter.
Kohler's H2Wise system performs functions similar to Moen's Smart Water Network. It also features AI capabilities that learn your water use over time so you can make more informed decisions.